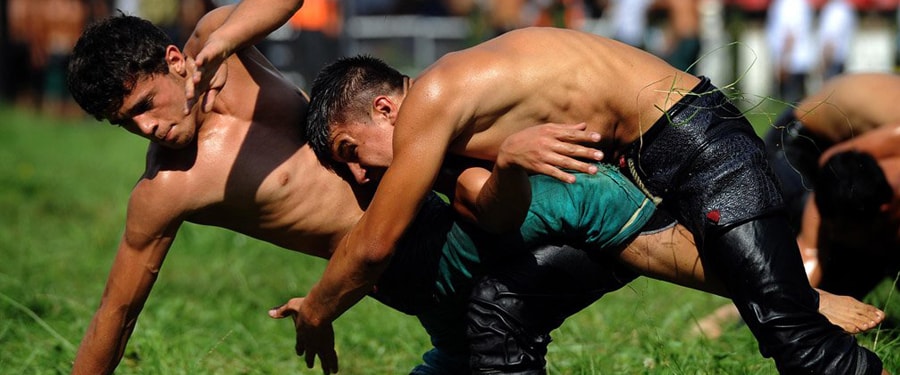 Kirkpinar Oil Wrestling Festival
The Kirkpinar oil wrestling festival takes place in Edirne, Turkey. Thousands of people from different age groups, cultures and regions travel every year to see Pehlivan (wrestlers) fight for the Kirkpinar Golden Belt and the title of Chief Pehlivan. Each festival is launched by its patron, the Kirkpinar Aga, in a ceremony featuring forty bands of davul drums and zurna shawms. The golden belt is carried through the city in a procession, followed by prayers recited in the Selimiye Mosque. The wrestling bouts customarily take place at the Mens Field. The master of ceremonies introduces the Pehlivans to the audience, reciting in verse their names, titles and skills. Next, the oil man oils the wrestlers assisted by the towel holder, before the warm-up exercises and greetings. The wrestlers each wear kispet, thick trousers made of water buffalo or cow leather. As the wrestling takes place, the drum and shawm bands play the traditional repertoire of the festival. Kirkpinar oil wrestling is open to men from all cultures, regions and ages without discrimination between religion, language or race. Pehlivans are considered exemplary figures in society with attributes such as generosity, honesty, respectfulness and adherence to traditions and customs. All Pehlivans are trained in the master-apprentice tradition.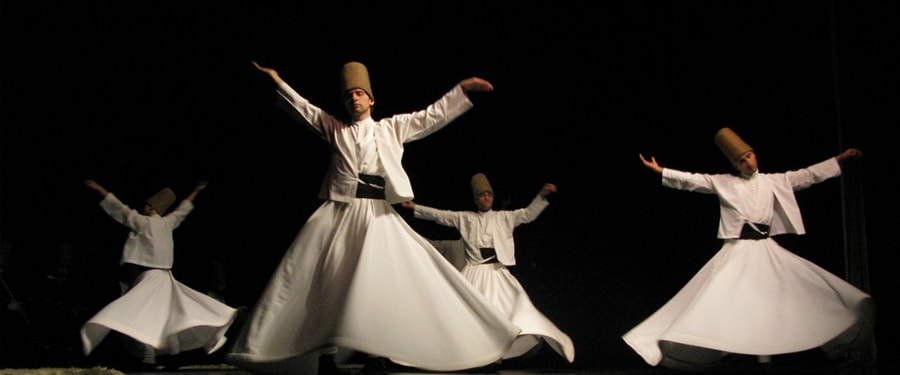 Seb-i Arus, The Wedding Day
Every 17 December, the night of Mevlana's death, thousands of people from all around the world gather at the magnificient 13th century Mevlana Mausoleum to celebrate Seb-i Arus, his 'Wedding Day', his reunion with his Beloved, with the Divine.

During his last hours his wife pleaded with Mevlana to not leave and ask God to let him stay here a little longer. Mevlana's reply was thus:

Am I a thief ?
Have I stolen someone's goods?
Is this why you would confine me here and keep me from being rejoined with my Love ?

So we see his opinion of death. It is the time of release from this cage of the body; the time when the bird of the soul flies free. But it is thus for the soul which has realized the Divine within and has become purified of all earthly desires. For those on the path of Mevlana, Seb-i Arus is a celebration, like a festival of the beauties being offered every moment to the Lovers of God.

According to Mevlana's teachings, human beings are born twice, once of their mothers and the second time of their own bodies. The real birth is the second, spiritual birth. Mevlevi dervishes, guided by a spiritual leader, are expected to live as members of the Mevlevi Order, according to the principles of his teaching. A long period of spiritual progress is necessary before they can participate in the whirling dance, for which they wear a tall cap symbolizing the tomb of carnality, and a white robe which is its shroud.

Those who live this celebration every year and also those experiencing it for the first time, were given at least a taste of the beauties and wonders of loving God, of wanting to be with God eternally.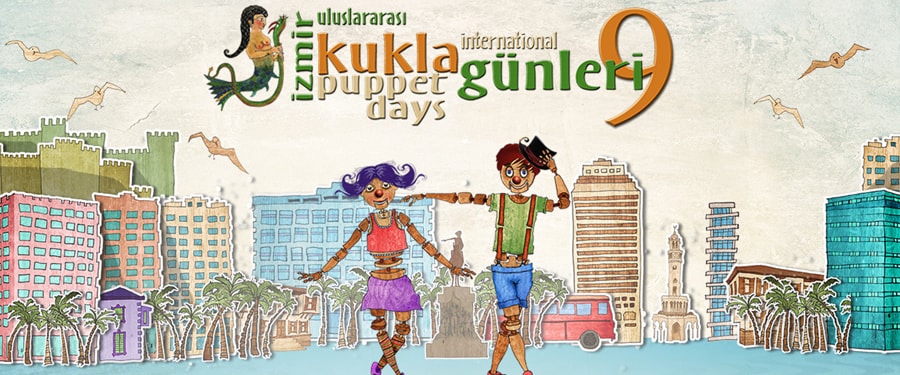 Izmir International Puppet Days
It's been 10 years since the puppets came to Izmir for the first time. Those days when Izmirians meet the puppets for the first time, flash before my eyes. We remember how excited everyone was to meet them. They felt strange at the same time as the puppets were nothing like they had ever seen before. But we got used to them easily. And we liked them a lot. Especially the children became quite fond of them. No matter what their ages are, the puppets have a childish side and that is exactly why they always get along well with kids and why grown-ups initially felt that they were friends of kids only. But in a short while they realized what a wonderful friend a puppet can be and how much there is to learn from a puppet which can be a child with a child and become a grown-up with an adult. Some of those puppets settled in Izmir and now they live with us all the time. Number of visitor puppets, on the other hand, increased tremendously year by year. They cannot help telling about Izmir wherever they go. The others wish to see this praised city at least once in their lives. In short, during the last decade, Izmir turned out to be one of the most important cities in the world for the puppets. The love and attention they got in this city bonded them strongly with Izmir.

This year 58 puppet theatre companies from 32 countries will perform 64 shows 275 times at 45 venues. The festival will welcome art enthusiasts with an international symposium alongside 5 exhibitions one of which is coming from Slovenia. Eight workshops, five of which for professional performance artists and three of which for children, will enrich the festival program. Three conferences and a colloquy will expand our knowledge. There will be exciting hours at the puppet show contest amongst elementary schools. One of the major puppet festivals of the world is beginning for the tenth time in Izmir…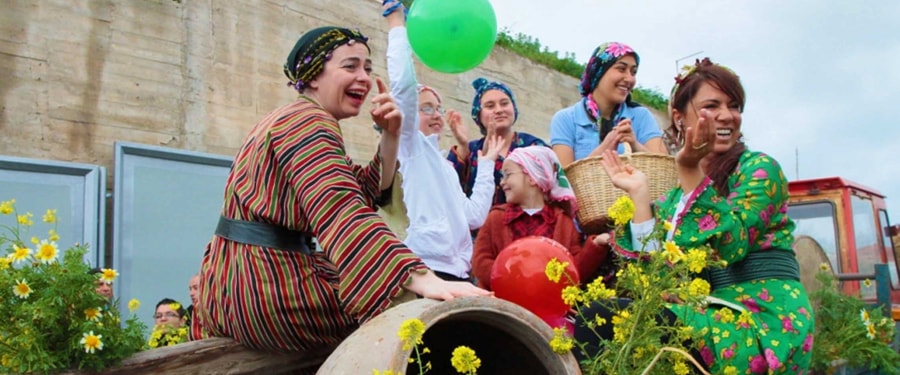 Alacati : The Fest Town of Aegean
Alacati... not just a surf center, but also an address for cultural organizations. Events such as fishing, cycling, art exhibitions, and photography contests are organized in both summer and fall seasons. Since Alacati has a highly intellectual visitors' profile there are continuous art workshops in the town.

Alacati Herb Festival
Today, as the importance of the environment and natural foods are appreciated more than ever, hundreds of years of cultural values of the Alacati people are introduced to our country and the world. To introduce and save the rich variety of Alacati herbs, the richness of its nature, and traditional foods cooked with those herbs, an herbs festival is organized.

It is a privilege to experience the spring freshness in Alacati! The herb festival is organized every spring when nature is just awakening and at its best, and hundreds of different herbs are growing in the fields around us. The festival is envisioned to take a traditional course.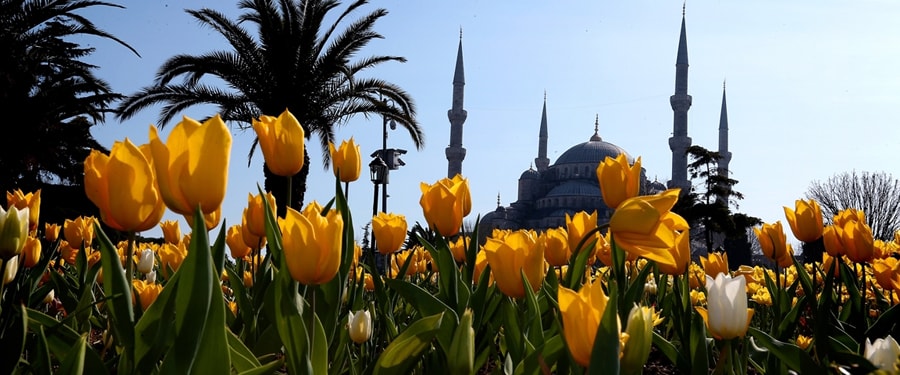 International Istanbul Tulip Festival
In April the annual International Istanbul Tulip Festival takes place. This shouldn't be a surprise if you know that — unlike common belief — tulips originated more or less in Turkey. So, if you happen to be in Istanbul during this time of the year, you're in luck. Millions of tulips are planted in Istanbul's parks, avenues, traffic roundabouts … basically anywhere where some open ground is available. But what is the best place to admire the Istanbul tulips ?

Admire Istanbul Tulips in Emirgan Park
During the month of April, you can spot these glorious spring flowers everywhere in Istanbul. But for a real tulip treat and the International Istanbul Tulip Festival, you have to head to Emirgan Park. It is one of the largest public parks in Istanbul and has several tulip gardens. Emirgan Park is located by the Bosphorus in Sariyer, which is a little bit past the second Bosphorus Bridge. The park is open daily from 07:00 until 22:30. You can reach Emirgan Park by bus 25E from Kabatas.