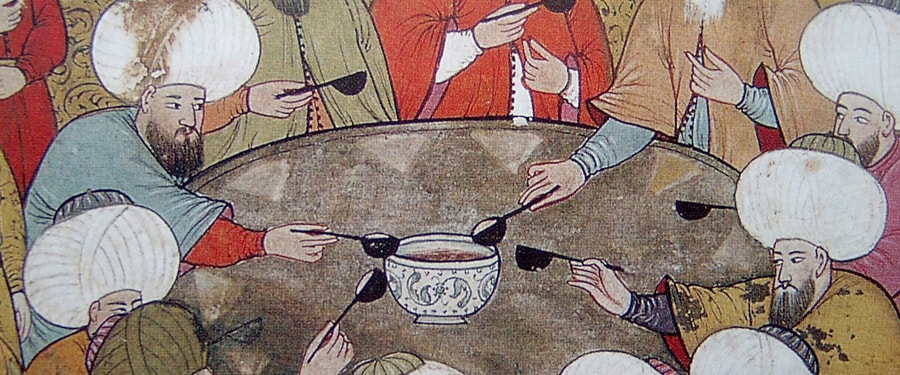 Foods of Turkish People
Turkey is one of only seven countries in the world that can produce enough food to feed its people. This advantage gives the Turks access to fresh, locally grown ingredients that help to create some of the freshest dishes available. Contrary to common belief, Turkish cuisine is generally not spicy (though this varies throughout the seven regions). Seasonings and sauces, although frequently used, are simple and light and do not overpower the food's natural taste. The most popular seasonings include dill, mint, parsley, cinnamon, garlic, cumin, and sumac (lemon-flavored red berries of the sumac tree). Yogurt is often used to complement both meat and vegetables dishes.

Rice, wheat, and vegetables are the foundation for Turkish cuisine. Dolma , rice- and meat-stuffed vegetables, is frequently prepared throughout the country, most often with peppers, grape leaves, or tomatoes. The eggplant is the country's most beloved vegetable, with zucchini a popular second and then beans, artichokes, cabbage, particularly when prepared in olive oil. Pilav (pilaf), Turkish rice, is a common filling for dolma , as well as a common side dish. Various grains are used to make pide (flat bread), simit (sesame rings), and börek , a flaky, layered pastry filled with meat or cheese that is often eaten for breakfast.

Turkish meat usually means lamb, the main ingredient to the country's most popular national dish, kebap (skewered grilled meat). The kebap resembles the familiar shish-kebab (onions, tomatoes, and peppers threaded on a skewer between pieces of meat and grilled) commonly eaten in the United States. Patties of seasoned minced meat called köfte are also popular. Most cattle are raised for their milk rather than for beef, and pork is prohibited in the Islamic religion (which nearly all Turks practice). Poultry and seafood, however, are second in popularity for meat-based meals.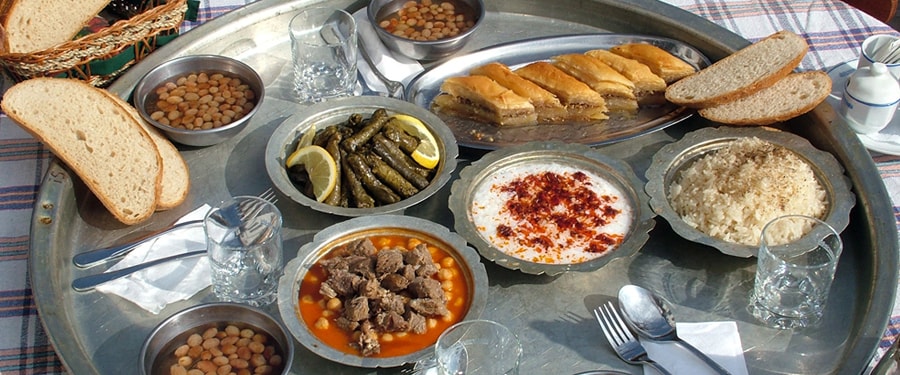 Mealtime Customs
Turks enjoy three meals a day. Kahvalti (kah-vall-tuh), or breakfast, is generally a light meal consisting of fresh tomatoes, beyaz (salty cheese), black olives, bread with jam and honey, and an occasional soft-boiled egg. Freshly baked bread and tea are almost always present. Sucuk (a spicy sausage) and pastirma (seasoned beef) are frequently prepared in the wintertime. Those in a hurry often stop at a street cart or büfe (food stand) to grab a quick börek , a flaky, mince- or cheese-filled pastry or simit , a bread ring topped with sesame seeds. Muslims almost never consume pork products, making bacon absent from most menus.

Öyle yemek (oy-leh yem-eck), or lunch, is traditionally a heartier (and warmer) meal than breakfast. Çorbalar, or soups, are served in a variety of ways, most commonly including lentils and various vegetables and meats. Larger lunch items include baked lamb or chicken served with peppers and eggplant, and fresh grilled fish with a side of lemon. Rice and bulgar pilaf dishes are also popular. Lahmacun (lah-mah-jun), Turkish pizza, is popular among children. It consists of a thin crust and a layer of spicy ground lamb and tomato sauce. Tost, a grilled cheese sandwich, will please even the pickiest eater.

Akam yemek (ak-sham yem-eck), or dinner, is the largest meal of the day. Mezeler (or mezze , singular), are "appetizers" served before the main meal. Ironically, most mezeler dishes are large enough to comprise an entire meal by themselves. Salads, soups, pilaf-stuffed fish, and köfte (fried minced meatballs) can leave diners quite full. A meat dish accompanied by starchy vegetables (such as potatoes) typically follows. Seasonal fresh fruits or milky puddings are most often enjoyed for dessert.

Turks, who are extremely hospitable and enjoy company, will welcome even unexpected guests with Turkish coffee. Meals are traditionally served on a large tray, placed on a low table or on the floor. The family and guests sit on cushions on the floor around the prepared foods. To avoid accidentally insulting the host, it is best to not refuse second or third helpings. It is also customary to remove one's shoes at the door and offer a small gift to the host for their generosity.