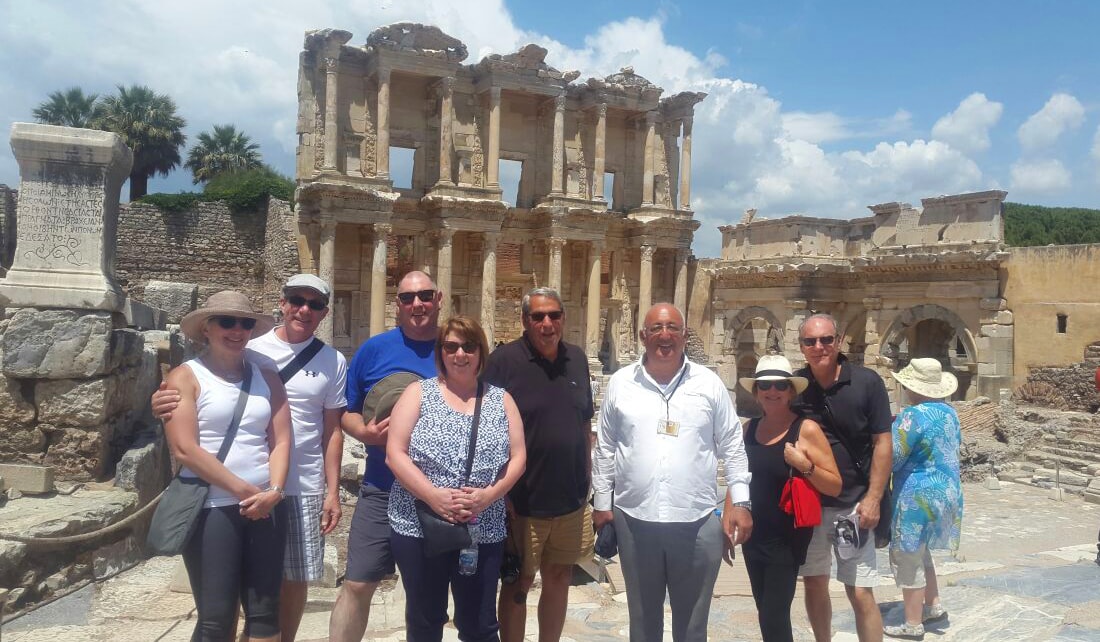 What others say ?
---
" De vraies joyeuses intetessantes decouvertes!!!!! "
Celsus Travel travaille "a la demande" et vous concocte LE VOYAGE DECOUVERTE que vous souhaitez !!! C'est donc tres intéressant !!!! Vous batissez votre voyage vous voyez ensuite si vous avez des amis avec lesquels vous pouvez vous regrouper (c'est mieux !!!) Vous aurez aussi besoin d'un guide (Erol Yilmaz est vraiment SUPER) et vous decouvrirez Kusadasi, la Region, la côte Egeenne, les îles, PAMUKKALE (chateau de coton), EFES etc... (je cite les lieux les plus connus!!!! ); rassurez vous il y en a bien plus !!!! Les Turcs sont ACCUEILLANTS heureux de VOUS recevoir de vous faire découvrir leurs coutumes leur folklore leurs productions culinaires et artisanales etc Franchement vous devriez revenir satisfaits et heureux de votre séjour !!!! UNE CROISIERE TELLE QUE VOUS L'AVEZ REVEE!!! ESSAYEZ !!!
Michel R.
Reviewed April 08, 2016
" Personable Tour in Katakolon "
We booked a private tour for a visit to the Archeological Site of Olympia and we are very happy for what we paid for! Our tour guide was very very engaging with his stories and he is very knowledgable with his facts not just about Greece but other things linking to the politics, history and culture of Greece as well. We will definitely get in touch with Celsus Travel again and recommend this company to our family and friends who plan to travel to Greece.
Celine K.
Reviewed April 06, 2016
" Excellent two day tour of Ephesus and Pammukale "
We had an excellent tour. Our guide Mr Semih was extremely informative and interesting. A lovely man. He was very passionate about the history and his knowledge was detailed and interestingly explained. He and the driver didn't hesitate to turn back half an hour into our trip when we realised that we had left something in our hotel room. He also helped out planning our onward trip even emailing us with train timetables and hotel recommendations. 5star plus!!!!
Carolyn F.
Reviewed March 27, 2016
" Ephesus "
We have taken two tours of Ephesus with Celsus Travel. The first was several years ago while on a Celebrity cruise; the second was in November with a Gate 1 land tour. In both cases the private tour that we had with Celsus Travel was cheaper than that offered by the cruise line or the tour agent. We had very knowledgeable guides and were able to set the pace of the tour. We saw more and learned more than if we had been on a group tour. I have just booked them to give my son's family a tour when they are in Kusadasi in June. The vans were very clean and new. The drivers were very nice also and were good, safe drivers. I would recommend them to anyone wanting a special tour of Ephesus. The company went out of their way to assist us and ensure that our needs were met.
Sharon M.
Reviewed March 23, 2016
" Great excursion "
We had a wonderful tour guide and a great private driver for less than the price of a group tour through Celebrity. The guide was wonderful and knowledgeable and also willing to tailor the tour to the time we wanted to spend at various places and also take us to the Ephesus museum, which is sadly under-visited. I would highly recommend them!
Michael M.
Reviewed March 21, 2016
" Cheerful refund after cancellation "
Due to the cancellation of our Cruise Ship's visit to Turkey, we were forced to cancel our shore excursion with this company. The monies were refunded in full, within a short period. Although the cancellation was due to terrorism related events, there were no questions asked.

I certainly wish them well, through what must be a very difficult time for tourism in Kusadasi, with I believe, all cruise ships cancelling for 2016.
Andrew G.
Reviewed March 20, 2016
" Ephesus from Kusadasi "
Excellent excursion. Much better than that offered by the ship. Well looked after by real local people.

Thank you !!
Jim P.
Reviewed March 18, 2016
" Kusadasi Ephesus "
I booked this company for a tour of Ephesus through the internet after reading some other good reviews, I went in February of this year with another female companion.

We were picked up from the hotel at 10 am as planned in a very nice white car, The driver/guide also spoke good English, which made it easier for us, We were taken the short journey to Ephesus & Virgin Mary House, It was a wonderful day,relaxed & very informative, with the guide allowing us to take time to see everything, the sun even shone for us, even if it was a little cold. We even stopped off in a little town to drink some Turkish tea on the way back.

I am hoping to go back to Turkey in April & looking to book a short trip to Istanbul, I will without a doubt use this company again for any future tours.

Thanks Celsus for making it a very enjoyable day.
Lynn M.
Reviewed March 12, 2016
" Surreal experience with Celsus Travel "
It was surreal experience with Celsus Travel. We enjoyed our tour tremendously because the guide Nihal and driver Emin were both very good at what they do! We took lunch at the Yavuz restaurant and it was delicious which is something we appreciated too. Sights are amazing and definitely worth the time! Ephesus, outstanding ruins of the eastern Roman Empire. Probably the best site to explore in all of Europe. You can feel like a roman in Ephesus today! I highly recommend Celsus Travel for an outstanding experience in Ephesus.
Brenda A.
Reviewed February 16, 2016
" Very nice tours in Istanbul & Kusadasi "
I was in a family trip, with my parents and grandma. We were in a cruise, so we did the Istanbul and Kusadasi Shore Excursions. It was a very nice experience. The cars were super comfortable and clean, and the guides were super good. Would choose Celsius again.
Barbara C.
Reviewed January 15, 2016
" Superb Tour in Ephesus "
The service provided by Ms Ezgi who works for Celsus Travel was excellent and the price for the tour was most reasonable. The tour was most enjoyable and match all expectations. Our guide and driver waited us at the dock on time and the vehicle was fine. In particular the guide was very knowledgeable and very pleasant. Can certainly recommend this tour company and service to others.
K. Cordell
Reviewed January 10, 2016
" Exactly what we were hoping for "
We were very pleased with our excursion from Kusadasi, visiting Mary's house and the ruins in Ephesus. Our guide was very helpful, well informed. Would definitely recommend Celsus Travel.
C & A
Reviewed January 09, 2016
" Great way to see Ephesus "
We recently traveled to Turkey on a Viking Cruise. The cruise excursion options did not allow us to see all we wanted to see in the short time we were at Kusadasi/Ephesus (7 am to 1:30 pm). We contacted Celsus Travel, which arranged a private tour for our group of 8. We saw everything we wanted to see -- and more: Mary's House, ruins at Ephesus, Library of Celsius, Grand Theater, and Terrace houses with amazing mosaics. Our guide, Taner Kara, was knowledgeable and enabled us to make the most of our day, including going to see a carpet-making demonstration. I recommend Celsus to anyone traveling to Ephesus.
Mary-Jane A.
Reviewed December 1, 2015
" Fantastic Experiences in Kusadasi & Istanbul !!! "
Our experience was fantastic! They were very prompt...waiting for us when we disembarked at Kusadasi and Istanbul ports. They made recommendations in both ports and allowed our day to not feel rushed. Drivers were professional and polite. Vans were nice, clean and comfortable for a party of six. Would highly recommend them.
Beth O.
Reviewed August 28, 2015
" Superb Service by Celsus Travel "
The service provided by Celsus Travel was excellent and the price for the tour was most reasonable. The tour was most enjoyable and match all expectations. The guide was waiting at the dock on time and the vehicle was fine. In particular the guide was very knowledgeable and was very pleasant. Can certainly recommend this tour and service to others.
Boogarden Family
Reviewed August 23, 2015