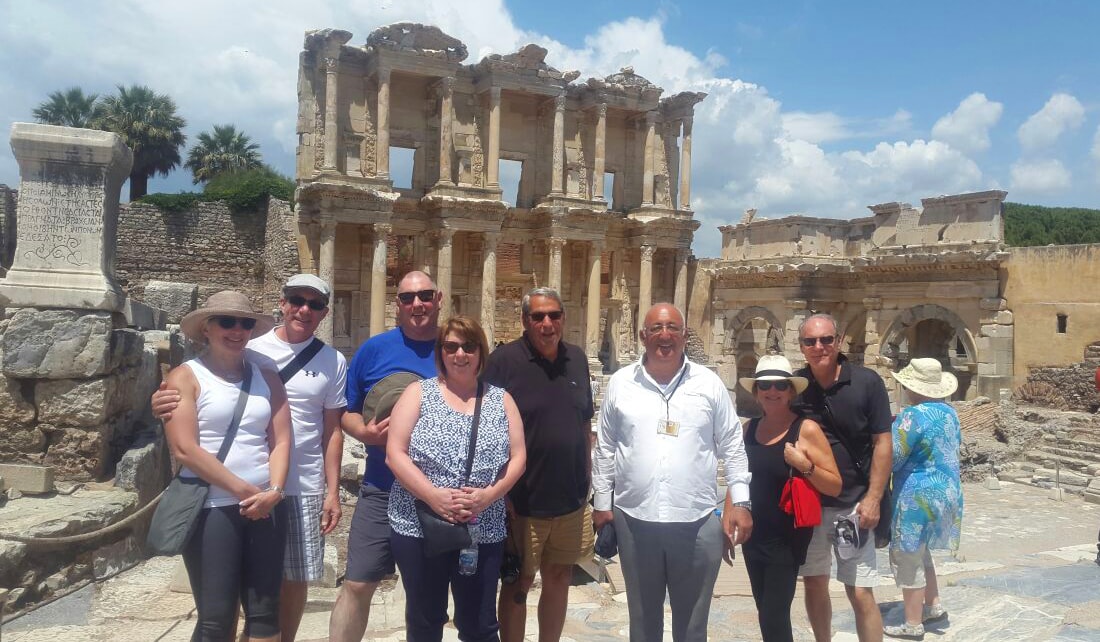 What others say ?
---
" Ephesus and beyond "
As many cruise passangers we decided to have a private tour from Kusadasi. Apart from the must-see Ephesus we wanted to explore Didima which proved to hide the most impressive ancient Greek temple we have ever seen, and Priene - rarely visited site with a fantastic view over Menderes valley. We chose Celsus Travel based on the reviews in Tripadvisor and were not disappointed. Greeted by Burak and then guided by Mehmet Cibikci we enjoyed our tour visiting all planned sites, listening to the story of every place enthusiastically told by Mehmet despite the temperature of 41 degrees Celsius. The trip should be greatly recommended for parents with kids like our (5 and 7 years old). We could stop with them for a while to look at lizards or cats walking the ancient stones instead of running to follow the group. We even stopped in one of the villages to buy ... waterpistols for the kids. The driver and the car (Mercedes) was also fine. It was the best off shore excursion of our 11 day Mediterranean cruise.
Wojtek S.
Reviewed August 1, 2012
" Great service "
Burak is a great enthusiastic and straightforward point person and willing to work with a customized itinerary, unlike some of the local agencies who seem more concerned with protracting the tour of a single venue to an entire day. I got a fair price for a pick-up at Izmir airport for a trip through Ephesus stopping at St. John's basilica and then to Priene, Miletus, and Didyma before dropping of a hotel through Bodrum. It's a long day in the heat and not something they usually do. The guide, Yavuz, was very well-educated about what we were seeing and was reasonably upbeat and had a good sense of humor, given the long day in the unrelenting sun, as was the driver. He has a soft voice though, and sometimes it was hard to hear. Everyone should wear a hat and stop to buy water to take with them through all these locations.

Priene is definitely worth seeing, btw. The surprise at Miletus is how interesting the bath complex is. Didyma is interesting for the different column carvings and primitive air conditioning, but by then I think everyone was pretty worn out. There was no question of being brought to a carpet "demonstration" given the strenuous itinerary.
Amanda C.
Reviewed July 17, 2012
" Fantastic personal tour "
This is a belated review as we travelled to Turkey in 2011. This company provided a great private service from our cruise ship. We travelled around Kusadasi and Ephesus to see everything on our wish list. Our guide was polite, very knowledgable and accommodating, as was the driver. The car was a new Opal Astra and was most comfortable. The itinerary was fantastic and our slight variations were easy to include. This made it one of the best days of our holiday. The price was extremely good and I would recommend this tour company for anyone.
Monash A.
Reviewed July 15, 2012
" Great tour of Ephesus - definitely recommend "
We were a group of 8 Australians travelling on a Mediterranean Cruise deciding on a private tour of Ephesus with Celsus Travel instead of the cruise line's shore excursion. Our tour guide was Oscar who was waiting for us when we disembarked at Kusadasi and there was also a driver who did a great job. Oscar's knowledge was very extensive and combining this with a good sense of humour made the day very enjoyable and interesting. He explained everything so well and spoke perfect English. The van was larger than expected and very comfortable, which gave us more room to spread out. Our first stop was The House of the Virgin Mary. The house was set in very pretty and peaceful surroundings. We were all very happy to have gone there. There was a prayer wall where people could write private prayers on notepaper and attach them to the wall.

After this we went on to ancient Ephesus and the fantastic Terrace Houses. Oscar gave us a very extensive tour of the ancient site. My husband accidently dropped his sunglasses from a height and they fell into no man's land where the public wasn't allowed but Oscar managed to retrieve them for him. Thanks Oscar! We had all decided beforehand that we didn't want to go to a carpet demonstration and had no pressure to do so.

Ephesus and the Terrace Houses are a must for anyone visiting Kusadasi and I can highly recommend Celsus Travel.
Jane F.
Reviewed July 6, 2012
" Perfect Service for an exciting experience "
Wonderful. Following reviews from other contributors about Celsus Travel, we chose a private tour of Ancient Ephesus when visiting on our cruise with Norwegian Cruise Line. In Athens due to the financial difficulty we choose a tour arranged by the shipping company. It was well done, but 100's of people on and off busses and no chance to discuss subjects with the tour guide. Celsus provided a private car with driver (Cheiftain) and guide (Mahmet). Both were real gentlemen, they even opened the car door for us! Mahmet spoke excellent English, very knowledgeable and courteous. We were collected at the cruise terminal and paid cash US$ on our return. Our only negative comment, just be sure of your price. Despite the email clearly stating the price was for two adults, it was actually the price for one. I am certain this was just a communication error with no malicious intent, but do check the price carefully first. Once again, this is the way to tour without a doubt. Thanks Guys.
David B.
Reviewed June 10, 2012
" Excellent Experiences With Celsus Travel in Turkey "
I am Tony from Washington DC, USA. My wife and I went on a 12-day cruise to the Mediterranean on April 30 to May 11. Our ship, the Celebrity Equinox, docked in Istanbul, Turkey for one and a half day and Kusadasi, Turkey for one day. We booked two shore excursions with Celsus Travel based on the Tripadvisor reviews. The two shore excursions were the Istanbul Tour and Ephesus Tour. Our travel group included eight of our cruise critics' friends. We organized the shore excursions prior to our cruise. The shore excursions with Celsus Travel were booked via the internet which was a very simple process. Our contact was the tour manager Mr. Burak Ocal; he handled our bookings professionally and promptly. Everybody in our travel group enjoyed the private shore excursions. The size of the group was just right, not too small and yet not too large and intimidating like the cruise sponsored excursions. Our shore excursions were fabulous and the tour guides were excellent. I don't think we will ever want to take another cruise sponsored excursions again. These full day 8 hour excursions are more flexible and yet cost only half of what we would have paid on the cruise's excursions. Here are the summaries of our excursions:

Our tour guide in Istanbul was Mr. Serhan who picked us up at the cruise terminal with a luxury brand new Mercedes van. He prefaced the trip with an introduction detailing where to visit first to avoid the rush of crowds, and managed the rush hour traffic well by getting us there in a timely manner. We visited the Topkapi Palace, Hagia Sophia, Blue Mosque, Hippodrome, and the Grand Bazaar toward the end of our tour. Our tour started at 8:30 am and ended at 6:30 pm. We did not feel rush or push into buying anything at the Grand Bazaar. The shop keepers were very nice. We made some small purchases, and sampled apple tea and a lot of turkish sweets. Since our ship docked in Istanbul overnight, we walked back to the Spice Bazaar and Grand Bazaar the next morning. It was just a 20 minute walk. We also saw the set of the new James Bond movie, the Sky Fall, outside the Spice Bazaar; however, we did not have time to wait for the filming because our ship was leaving at 1 pm.

Our second tour started in Kusadasi. We were greeted not only by our tour guide Mr. Hasan but also the Celsus tour manager, Mr. Burak Ocal at the cruise terminal which was a pleasant surprise. Mr. Hasan detailed our tour plans in very good English. We visited the Ephesus Ancient City, which is a must see in Turkey. We also visited the Terrace Houses and the Temple of Artemis. We then had lunch at the beautiful village of Sirince with picturesque setting of olive trees, sampled the local wines and did some shopping. Our last stop was to visit the Basilica of St. John before returning to our ship.

Overall, the tours were excellent and I would definitely recommend Celsus Travel for your next visit to Istanbul or the Ephesus in Kusadasi.
Tony C.
Reviewed May 27, 2012
" Excellent Tour of Kusadasi (Ephesus), Turkey "
I booked this tour after reading reviews on Trip Advisor. At the pier the guide was there to meet me with a large sign. They confirmed at the collection point if we wanted to pay by Credit card or cash, to avoid confusion later. There were 6 in our group, and we had a driver and guide, and an airconditioned van that seated about 11. The guide was excellent, very knowledgeable, patient, professional and pleasant. He took us to see the sites we had asked for, mainly being Ephesus and the Terraced Houses. When I booked I had read reviews that the Terraced houses were a must see.. but I had no idea what they were, I thought was posh homes. They are actually excavated houses in Ephesus, but you have to book into these separately, so if you want to see them, which is a must do, make sure you request it. I had mentioned in my email that I didn't want to go to the rug factory, as all the reviews mentioned the hard sell. Ephesus was really unknown to me, and after being in Rome & Athens I found that the ruins there are so much better than Athens, and so much more to see, and as good as some in Rome. This is definitely a hidden treasure. We also thought Kusadasi was very clean and tidy. We were very surprised, no graffiti like there is all over Greece and Italy and no street beggers either. This was the stop I wasn't really excited about, and now I want to go back and discover more of Turkey.

The guide confirmed that this was not requested, but asked if we did want to go. Unfortunately the 2 people I was with decided this would be great. I didn't want to go due to having read the reviews, and had warned them, but they decided that they wanted to see how rugs were made (so not the guide's fault.. it would of course be promoted by them, but not compulsory). We went to the rug factory, and had one on one time with a salesman. We watched briefly the rugs being made and were then taken into a private room. The man offered us his hospitality of food and drinks and one of my friends said that would be great. I immediately said that we didn't want any, as knew that this would mean we are accepting this and that we are interested in buying a rug. My husband and the friend who was so keen to see the rugs disappeared and left me and my kids and friend there in the room with the salesman and another man. This other man ran around the room bringing out rug after rug after rug. I didn't know how to stop him. It certainly was full on sales pitch. My daughter (only 15) then had the guts to say that he might want to stop. I said I had no intention of buying any rugs, and didn't want to waste his time. He said something about how we should see things from his point of view, but I had had enough and wanted out. My friend did want a small rug and asked about the price of one. For a very small patch was about EU600.

So, overall the trip was excellent. It was spoiled by having to go to the rug factory that I didn't want to go to, but, as I mentioned, this was NOT pushed on us at all, just my friends not having done any investigation and not accepting my advice that it would be a full on sales pitch. I would definitely recommend Celsus Travel for tours.

If you are interested in the rugs.. go ahead.. just not my thing.
Sharon A.
Reviewed May 24, 2012
" A must do!!! "
My family took a private tour with Hal and Celsus Travel. We had the best time in Istanbul as we had on our entire cruise. We saw everything, ate, and shopped. The trip was perfect and we would not have change anything. Celsus travel was ver professional and took care of all questions immediately. The tour was worth every penny!

We will use this travel service again.
Lisap G.
Reviewed April 18, 2012
" Turkey was awesome "
If there was a catagory above excellent, I would choose it for our wonderful experience in Turkey! Our guide, Murat, met us as soon as we got off our cruise ship in Izmir. We had a very comfortable van and a driver, so Murat was free to give us his undivided attention. By the time we arrived in Ephesus, we knew so much about the history and culture of this fascinating country. It really enhanced our tour of the site.

Murat was polite, charming, and so accomodating. He took us everywhere we wanted to go, and we had the best day. Murat made us feel like we were friends instead of just clients. We can not wait to go back to Turkey!!
Sally B.
Reviewed March 20, 2012
" Fantastic Ephesus Tour! "
My brother and I recently traveled the Mediterranean via cruise line and had the opportunity to visit Ephesus Turkey. We diverted from the ship day excursions and decided to go with Celsus Travel. A great decision on our part as we were able to see all the sites within Ephesus Turkey and then some. Our travel guide, Yesim, was prompt to pick us up, professional, knowledgeable and had a wonderful sense of humor! I highly recommend this company. We were able to individually tailor our site visits and hit every major destination. We will use them again!
Patrick S.
Reviewed December 27, 2011
" Excellent tour to a fascinating site "
My wife and I were on the Norwegian Jade in mid-November and we had a one day stop at Izmir...roughly an hour from Ephesus. Not being much for bus tours, we booked a private excursion through Celsus Travel. It was all handled via the internet, and taken care of very professionally. The price for the full day, including the driver and guide picking us up from Izmir, taking us to the House of the Virgin Mary, then to Ephesus including the Terrace Houses was about $226. This is actually LESS than the two of us would have paid to pile onto a bus with 50 other people.

Our guide was Yesmin and our driver was Sharif (sp?). We were met RIGHT on time and whisked off to our comfortable car and off we went. Beautiful drive through the charming countryside. We went to the House of the Virgin Mary first. When we arrived, there was almost no one else there, because we had beat the busses. We only spent a short time there...and as we were headed out, the busses from the ship arrived and suddenly there was a LONG line. But we missed it! That alone was reason enough to have the private tour. (By the way, this site is really something to see ONLY if it has some religious signficance for you...there isn't much there, although it is in a beautiful mountain location.)

Then we went on to Ephesus, and had a GREAT time. We spent easily a couple - 3 hours wandering around. Yesmin would stop us and present info at various spots, then would give us some time on our own to wander, take photos, etc. and she was always patiently waiting for us. We take a fair amount of photos and like to really look...so she had to be patient with us, and she was. A little past midway, we went into the Terrace Houses...something the bus tours did not get to do. There is NO WAY to fully appreciate this site without seeing them. This took the day from being very good to great...the excavated homes are jaw-dropping in how great a look they give you at past history. Ephesus is the best ancient site I've seen for really making it easy to imagine what life might have been like at the place. REALLY a great site. And Yesmin was so friendly and helpful.

After this, we had a brief lunch in Selcuk (the village nearest to Ephesus). We avoided the "tourist" spots and grabbed an authentic bite to eat at a little hole-in-the-wall that was really quaint and tasty. Also, it was only 3 euros each! (Oh, and we also made a 5 minute stop at the sight of the Temple of Artemis, one of the 7 Wonders of the Ancient World. There is literally next to nothing left...but we were able to say we saw it. Didn't cost any more and was on the road into Selcuk anyway...so it was a quick, unexpected treat.)

We had expressed moderate interest in lamb leather products, and Yesmin also asked if we'd mind visiting a carpet factory. We knew this was the time for the hard sell...but we'd had such a nice time so far, that we were pushovers regarding the carpet. But, we actually enjoyed seeing the silk harvesting, and the sell on the carpets was not very hard. We even found a very small piece that we thought was lovely...and spent some money! We surprised ourselves, but were very pleased with what we acquired. The leather store was just way out of our price range, and not quite what we expected. Lovely items...but we just couldn't afford. If I had one quibble about the trip, I think Yesmin could have told us the kind of place she was thinking of taking us and letting us know about the prices. We would have saved her and us the time.

But our visit to Turkey was a delightful surprise. The tiny portion of it we saw was lovely. The people were super friendly (and spoke better English than people we met in Athens the day before). Prices were reasonable. And Celsus Travel did a great job. Yesmin was fun, knowledgible, spoke eagerly of the great Turkish culture and was a delight to get to know. Our driver Sharif, who spoke little English, was a real gentleman and when he heard we wanted to visit a Starbucks to get a city mug for a relative who collects them, jumped on the phone to try and find us one. By the end of the day, I felt we had made a nice little foursome. I know that it is their job, but Yesmin and Sharif made us feel right at home and my wife and I were just gushing about our visit as we went over the day and looked at photos.

I'd read good things on Tripadvisor about Celsus, so I was expecting good things. They really delivered. FANTASTIC value for the money, and a great, informative, fun time. What more could you want? (And if you don't want the shopping, I don't think Yesmin would have pushed back too hard...frankly, we were just in such a good mood, we were ready to be open to anything).
Murray R.
Reviewed November 28, 2011
" Highly recommend Celsus Travel "
We booked Celsus Travel for a half day tour of Ephesus and we were very pleased. Murat met us upon departing from our cruise ship, we were impressed with his vast knowledge of history and passion for his country. We appreciated the fact that we got a driver and a tour guide, so Murat could focus on us and not the road. It was a great tour and so much history to take in. We were also impressed with how clean and beautiful Turkey is.
Luvto B.
Reviewed November 4, 2011
" Fantastic Day with Celsus Travel! "
I arranged a full-day tour of Ephesus and other historical sites on October 4, 2011 for 12 of us visiting Kusadasi while aboard the Celebrity Constellation. Email communications were handled quickly by Didem and she was very accomodating in setting up a tour that met our needs. We were met at the pier by our guide, "Oscar," and he guided us back to a nice, Mercedes Sprinter van where our driver was waiting. Our tour day consisted of visits to Ephesus (including the Terrace Houses), Virgin Mary's House, Ephesus Museum, and Basilica of St. John. Note: Don't miss the Terrace Houses which are a great way to get away from the crowds and are beautifully restored. While the sites were impressive, what made the day truly special was Oscar's encyclopedic knowlege. His stories brought Ephesus to life and we learned so much more about the city's history than did the large tour groups being herded around. We have have been on countless shore excusions over the years and Oscar was perhaps the best tour guide we've ever had. He was consistently polite, knowledgeable, and spoke great English. Additionally, when we opted out of a Carpet Factory visit, he got on his cell plone and quickly made arrangements for us to enjoy a nice buffet lunch for only $8 per person. I chose Celsus Travel based on TA reviews and felt compelled to write a review to confirm that their #1 rating is well deserved. Our tour price included admissions to all of the sites and we paid a fraction of what fellow cruise passengers spent to see a lot less! I highly recommend Celsus, and if Oscar is your guide you are in for a real treat.
G.G.
Reviewed November 3, 2011
" Wonderful day in Ephesus with local guide Murat Kuccuk "
During a Black Sea cruise we visited Kusadasi. I booked a tour with Celsus Travel for a guide and driver to take us (my husband and I) to the House of the Virgin Mary and Ephasus. Our guide Murat Kuccuk was excellent. He was very knowledgeable and kept us entertained. I have difficulty keeping up with the cruise ship tours as I use a walking trolley and very often by the time I have caught up with a group of 50 people, the guide has finished their talk and are moving on - so we miss out on a lot of information. Murat was very patient and let us take as long as we wanted so we saw a lot more of Ephasus than we would have done on a cruise tour. The cost for this private tour was $200 which included the guide, a really nice car and driver for about 6 hours plus all entrance fees. I would certainly recommend Celsus Travel.
Pat D.
Reviewed October 28, 2011
" Awesome Tour "
Celsus Travel is a fantastic company to deal with. I arranged for a private tour for my 2 sisters and myself. They customized the tour to exactly where we wanted to visit. The communication was terrific. All my questions and concerns were answered quickly. We had arranged a tour to visit Ephesus, Temple of Artemis, Terrace houses and the House of the Virgin Mary. Our tour guide Haluk was waiting at the port with our name. He is a very friendly tour guide and made us feel very welcome. He was very informative and was able to answer any questions that we had at all the sites that we visited. He also asked us if we wanted to visit a place where they make hand-made rugs. We certainly didn't feel pressured. We were actually very interested. Only my one sister made a rug purchase. I think that she got a wonderful buy on a hand-made silk rug. Of course they are not cheap but a well worth investment. I would love to go back when I can afford one. Of all the sites that we visited, we were just in awe of Ephesus. This is a site that should be visited at least once in a lifetime and I wouldn't hesitate in the least to book with Celsus Travel.
Noah S.
Reviewed October 25, 2011