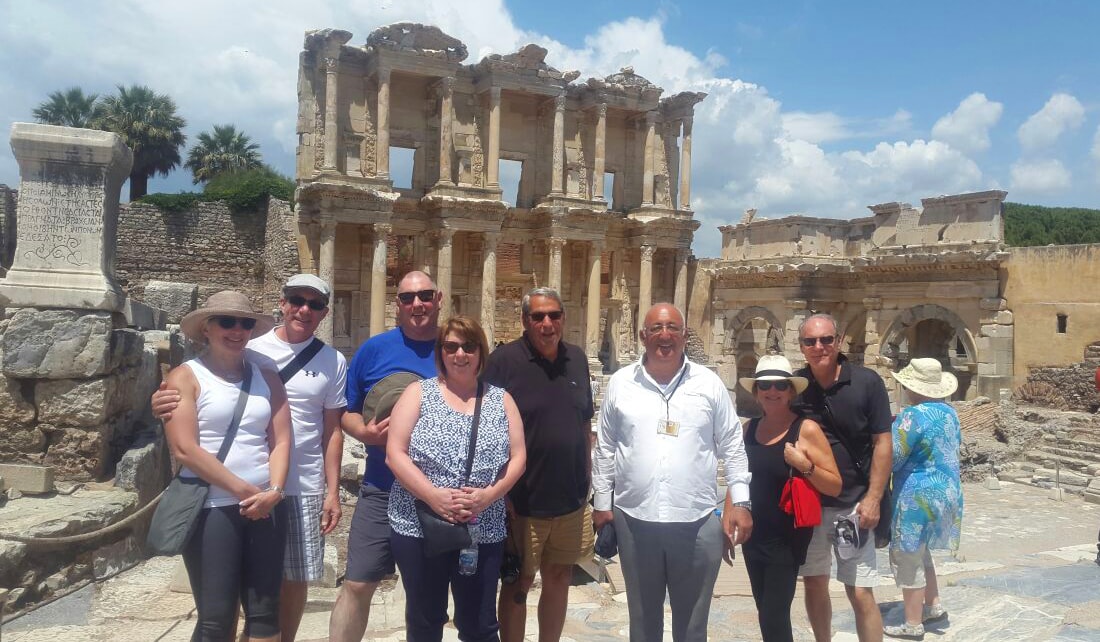 What others say ?
---
" Perfect day "
First I have to say how wonderful my contact, Didem Senturk, was. She emailed back and forth and made sure I got the tour I wanted (we did everything!!) Didem strongly urged us to be the first off the ship since we had such a busy day planned.

We (3 couples ranging from 43-65) were immediately met by our guide, Murat, and driver. We went to Mary's house first, and we were the only people there. You cannot imagine how special that was. As we were leaving the tour buses started to show up. Then we were off to the rest of the tour. When I say we saw everything, I mean everything. And we did not have to pay anything additional for entrance fees (it was all included in the very reasonable price). Murat was very charming and really knew his stuff. We saw so much that day, but he kept our interest by his humorous personality. We asked him to suggest an authentic place for lunch and we got it. We ordered a ton of local food having no idea what our bill would be. And Turkish baklava may even be better than Greek baklava. We got our bill and lunch (food & drinks) cost $4 per person!

It was truly a great day made possible by Didem, Murat and our driver. My only suggestion would be to make sure you wear comfortable shoes. We had no idea how much walking we would be doing and a lot was up & down steep hills.

If we ever get back to Turkey (and I hope we do because it was amazing), we will book again with Celsus Travel.
Jesole N.
Reviewed October 8, 2011
" Highlight of the Trip "
Based on reviews we read here at Trip Advisor, we booked a tour of Ephesus with Celsus Travel. It was the highlight of the trip for our kids. Coordination coming off the cruise ship was great. The van we had for our family of six was very comfortable, big and clean. Ozgur, our tour guide, was outstanding! He adjusted the tour to our needs and schedule and was great with making it interesting for our kids. Definitely be sure to see the Terrace Houses while at Ephesus (it costs extra). By booking directly with Celsus we were able to save a lot of money off the cruise ship prices and got personal attention for our family and total flexibility for the day. If you go to buy carpets, do your research. We had a blast getting the tour of how the carpets are made and going through the sales process (what we thought would be boring for our kids turned out to be something they still laugh about), but we probably overpaid a little on the one we bought. Overall a great tour. Ephesus was fantastic and the tour with Celsus was great.
Paul S.
Reviewed October 5, 2011
" Yesim was a marvelous guide to see Ephesus "
I used Trip Advisor to book this excursion instead of using the ship excursion. It was wonderful! My husband and I got off the ship at 7 am --ahead of our agreed upon meeting time and she was there waiting for us. We beat the crowds of people at all of the sites. Yasim was well informed and very pleasant---offering to take our pictures often.
Judy T.
Reviewed September 29, 2011
" Great tour of Ephesus "
We arranged a private tour from Kusadasi during a stop on a cruise. Great decision to book directly through Celsus and skip the Holland America shore excursions. We were met at the port exit by our guide Yeshim and taken to our van. There were four of us, so we had plenty of room. Our driver turned out to be Yeshim's husband. We went first to the Virgin Mary's house to beat the big tour buses filled with cruise boat passengers from three ships in port. The crowds were manageable thanks to Yeshim's direction. She even pointed out the less crowded ladies bathroom. From there we went to Ephesus. Yeshim led us through the ancient city and described all we were seeing. Since we were a small group, we were able to make our way through the crowds easily. Comparing costs to the HAL shore excursion, we saved money and had a more enjoyable tour. We highly recommend Celsus and especially Yeshim's.
Marc A.
Reviewed September 27, 2011
" Celsus Travel Private Tour (Ephesus from Izmir Port) "
My husband and I are in our early 30's and took our first Mediterranean cruise with Norwegian last week. We opted to book our shore excursion through Celsus Travel instead of the cruise's options. We would consider ourselves budget travelers and after extensive research and shopping for best prices we found that not only was Celsus' tours less expensive, but they are also private tours instead of group tours. We are so glad that we did!

After seeing Athens on our own with the City Sightseeing bus the previous day, we were curious as to what Ephesus had to offer. We were completely blown away and our private tour guide provided through Celsus named Feliz was awesome! We were mostly interested in the biblical sites and Feliz had the knowledge and ability to communicate clearly which exceeded our expectations. The car that picked us up right at the port was spotless and the driver was super-polite and engaged in conversations. We were able to get to Mary's house before all the group tours and allowed us to take photos without too many people in the background and we were able to add St. John's Basilica to the itinerary since my husband and I were able to get to everything we wanted to see without getting held up with a group. They stopped the car a couple times so that we could take pictures on the way back to the port and also at any shops we wanted to buy tea and Turkish delights at.

We cannot say enough good things about Celsus's e-mail communications, tour guide Feliz, the car and driver, promptness or the communication after our tour. We highly recommend this company!
Marie and Ryan
Reviewed September 20, 2011
" The only way to explore "
We booked a private tour for the day and Yesim was our guide. She was waiting for us at the port when we disembarked (early) from our ship. Yesim and our driver were excellent.

We visited the Virgin Mary's house, Ephesus, the Basilica of St John, and the Temple of Artemis. Unlike many guides, Yesim talked to us about the sites and led us around, but also left us to explore at our own pace and waited for us each time. At Ephesus, which is enormous, she led us through section by section, talked about it and then gave us space to walk around. Her knowledge was impressive and her English very fluent. Each time we returned to the car it was ready with air conditioning blasting, a welcome relief from the heat.

With the large crowds in Ephesus, including many big groups, being with a private guide made the experience more relaxed as well as more informative. We were also taken, it seems unavoidably, to a local carpet cooperative and a leather goods showroom. Next time we'll say "thank you, but we've done that now" - we had no intention of buying and didn't buy - that was fine at the carpet place, but the leather man seemed to have a change of attitude when we didn't splash out on one of the beautiful but pricey jackets. I suspect there was an expectation that people who book private tours have wads of money!

That apart, we can recommend the company and the guide without reservation. When we spoke to others back on the ship about their day out on ship's tours, ours had been much better, not least because of the personal nature of the itinerary and the way we were able to go at our own pace.
Bien P.
Reviewed September 10, 2011
" Friendly & Informative "
We took a private tour of Ephesus and Sirince and had a friendly and informative guide. We learned a lot in a relaxed and enjoyable manner...and the price is right!
Chien Y.
Reviewed August 30, 2011
" Ephesus - Excellent Service "
Our cruise ship stopped in Kusadasi for the day, and although we didn't know much about the area, had decided on a private tour. Incidentally, we were in Athens the previous day, and because of the taxi strike, took a last-minute afternoon tour via the cruise ship. It was OK, but my children disliked being 'herded' around. So... when at Kusadasi, we were met by Murat and escorted to a comfortable, air-conditioned, leather-seated MPV / mini-van, we all sighed with relief, as it felt so luxurious compared to the previous day.

We set off at 07.30hrs, and were the second lot to arrive at the House of the Virgin Mary which meant we were able to walk around and enjoy the serenity of the place. None of us is religious, so in that respect it didn't "mean" much to us, but we could enjoy it from an historical perspective. And boy, did I feel smug as we were leaving, when the big coach tours started arriving, disgorging hordes of people and shattering the peace. We joined the throngs at Ephesus, but having our own tour guide meant we could go at our pace; find the shades, and Murat even put up with me and my daughter constantly stopping to stroke the cats and take photos of them. Oh yeah, and there were some ruins there too. ;-) Seriously, we loved Ephesus - it was huge, fascinating and so well-preserved. I enjoyed seeing the Terraced Houses and the pain-staking restoration work going on. DD and I had taken umbrellas to complement our hats, sunglasses and mini-fan (DD) but it was still a very hot place to be, so definitely better to be there in the morning than the afternoon. Murat said that by being prompt off the ship (how can people not be?!) we had saved an hour of queues. He fulfilled our request to stop for refreshments (just an ordinary corner place, but it was authentic!). We were given a choice of visiting a pottery place, rug place and / or leather place. We had expected this (well, the rugs anyhow). We declined the leather stop, but really liked the pottery / tile place. Of course the best pieces were so expensive, but if I had the money... We still bought bits & pieces though. The carpet weaving demonstration was ok, but again, prices were very expensive, but there was no pressure to purchase. We were dropped off (via a scenic view point) near the ship for free time to wander Kusadasi.

Murat was lovely; very proud of his area, and keen for us to explore it. He was friendly and knowledgable, and along with the polite driver, made sure we had a great time in Turkey. More than happy to recommend this company!
Gilliganuk H.
Reviewed August 3, 2011
" Shore excursion in Kusadasi "
We booked our sightseeing tour to Ephesus and other attractions during our one day stop at Kusadasi through Celsus Travel. They were extremely professional. Our tour guide Ozgur was informative, patient and above all extremely funny. Made the day very enjoyable. Ask for Ozgur (Oscar) when you book thru Celsus. The prices for the tour was very reasonable as well.
L.C.
Reviewed July 27, 2011
" Celsus Travel and Ozgur (our guide) were WONDERFUL! "
Recently, 15 of my family members and I traveled (on a cruise) to Kusadasi and Ephesus, Turkey. Trying to the best deal for our foreign buck, I found Celsus Travel on Trip Advisor and contacted them to get pricing on a private tour for 16. Getting information and setting up my tour through Celsus was SO easy and fast (by email). The process was very professional and I felt confident about the from the get-go.

Once at our port in Kusadasi, my family and I were greeted by our guide, Ozgur, who was friendly and enthusiastic. Ozgur provided us with LOADS information on Turkish culture and history throughout our excursion and was so kind! He even promised to email us that night if there were follow up questions on the tour that he coulnd't immediately answer and/or required more extensive research.

My family can be a rowdy bunch at times and Ozgur fit right in. Even though our tour was packed with historical information, Ozgur made it fun by adding lots of anecdotal information. We will definitely contact Celsus Travel (and Ozgur) when we visit Istanbul in the future!
Adrian T.
Reviewed July 27, 2011
" Great Day and Highly Recommended "
We booked our full day through with Celsus Travel through Trip Advisor and can't say enough great things about the day, the coast, our day in Ephesus, our guide (Benjamin) and the authentic Turkish lunch that was included in our fee. As a private tour, we avoided all of the major crowds and walked Ephesus from back to front (as recommended by our guide). We were absolutely blown away with how preserved the ancient city is and how one can really see what it was like to be in a city in the century before and after the birth of christ. We felt that the house where the Virgin Mary was in a beatiful location, unless one has a religious connection/desire to visit, it is not worth the time. We were fully aware that we would be brought to a rug making operation as almost all of the tours do this. We had a blast seeing how silk is spun and then how the rugs are made. We did purchase a rug but that was our choice and we felt no great pressure in doing so. We strongly recommend this company and our guide, Benjamin.
Chris L.
Reviewed July 19, 2011
" Extremely knowledgeable and and well organised "
I was given the task of arranging the tours for 27 people during a mediterranean cruise. We had a half day in Ephesus and our tour guide, Haluk, was extremely knowledgeable and enthusiastic. Celsus Travel was organised and professional throughout and arranged for a great bus to take us to the sites. Haluk was waiting for us when our ship docked and got us back on time. Overall a great experience!
Tina W.
Reviewed July 17, 2011
" Excellent choice "
We booked a one day shore excursion with Celsus in Ephesus in July. Website is very easy to use for booking Van was comfortable and clean. Excursion was very well planned. Includes terrase houses that cruise ship excursions do not see and should not be missed. Guide (Ali) had a difficult accent to understand at first but we got use to it. He was very professional and friendly. Ask to skip the potery demonstration and leather shop if you are not into shopping. I did enjoy the carpet demonstration, you have to do it a least once... even had a split second when I thought I might buy one! Good value for your money. Would definitely recommend.
Sapin J.
Reviewed July 17, 2011
" Ephesus excursion with Celsus Travel "
This was my first time lining up a cruise shore excursion using a private company rather than the cruise line. I found Celsus Travel through Tripadvisor, and could not have been more pleased with the result. We had five people to go to the Ephesus ruins. We were picked up in a nice air conditioned van. Our guide, Mehmet, was a retired English teacher, so understanding him was no problem at all. He gave us a good tour. The tour stops at a rug-making facility and ceramic shop for a demonstration and sales pitch, but the rugs were interesting and when we asked to leave without buying, our van left with no pressure. Our request to skip the ceramic shop was honored with no questions. The tour had some flexibility built into it, which was nice. All-in-all, we were pleased with the tour and would recommend it without hesitation. It also cost less than taking 5 people on the ship's tour.
Fisher C.
Reviewed July 17, 2011
" Amazing Guide, amazing tour "
We were in Kusadasi and were fortunate enough to have a private tour with Ozgur (Ozzie). We toured, the ancient city, the terrace houses as well as Sirince village. Ozzie's english was excellent, he was very knowledgeable and had a wonderful sense of humor. We were in Europe for almost a month and this was one of the highlights to our trip. Celsus Travel was easy to deal with, the prices were very reasonable, but most of all our guide Ozgur could not have been better. I would recommend this Travel Agency, and guide to anyone!
Cheryl R.
Reviewed June 25, 2011