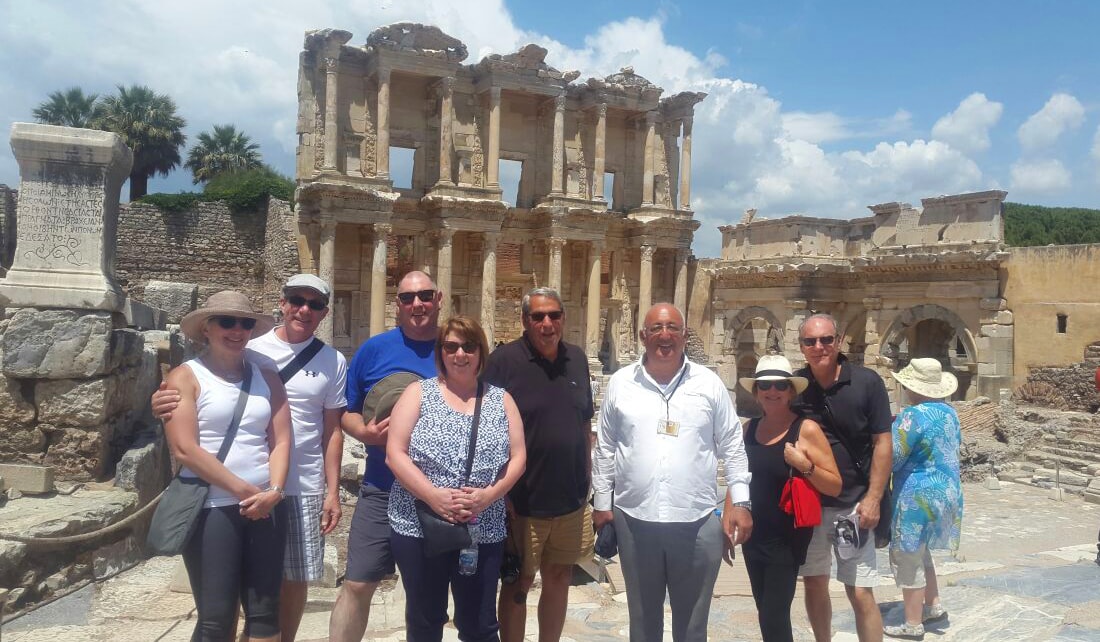 What others say ?
---
" A very enjoyable day "
The organising of the full day trip was very good, from pick up t drop off. Our tour guide, whose name we've forgotten was brilliant. She was very knowledgeable and made it all extremely interesting. The restaurant we had lunch was very good value and tasty. A very enjoyable day.
Natalia W.
Reviewed August 16, 2015
" Yigit the tour guide is tops "
I had a private tour of Ephesus with the guide Yigit. He speaks perfect American English; spent time in his youth in the US. I am an aging female with some mobility problems. He was amusing, kind and patient, so that I was able to get through the entire site on foot at my own pace in about 5 hours. Afterward he took me for a late lunch to a nearby restaurant, Yavuz'un Yeri, because I complained that most of the hotels were trying to force their Turkish idea of Western food on travelers like me (ugh) instead of authentic local cuisine (yum). The restaurant did not disappoint...it was great. Yigit also helped me tour a nearby ceramics factory, where the showroom has much lower prices than you would pay elsewhere for beautiful Turnish ceramics, and then he saw to it that I got to a dried fruit store in a town nearby, because I was desperate to buy some preserved mulberries, as I had never before had a chance to taste the fruit, which is grown in this part of Turkey. He was thoughtful and professional. If you are visiting Ephesus and nearby sights and need a private guide, you should ask for him by name.
Amy K.
Reviewed July 26, 2015
" Great Selection "
They set up an amazing and memorable tour. The guide was full of important cultural and historic information. She was phenomenal and spoke wonderful English. Great selection of places to see in Ephesus. Both interesting and beautiful.
Chuff A.
Reviewed July 24, 2015
" Friendly guide, delicious lunch and well organisation.. "
It was a private tour for my husband, daughter and myself. Our tour guide was Semith and he picked us from Izmir airport. The weather was so hot but the tour was fantastic and very emotional. Semith was a fountain of information and we couldn't have asked for a better guide. We stopped for morning tea at Selcuk and drove to Mother Mary's house for our first visit. We visited fabulous Ephesus and Semith was explained all history of Ephesus. We also had lunch which turned out to be entrée, main, mini dessert (which was quite big) served on the same tray as the hot beverage we were also given a mini carafe which held two servings of wine, you had a choice of red, white or rosé. It was a very emotional day and well worth it.
Martha O.
Reviewed July 21, 2015
" Fabulous Excursion in Ephesus (Kusadasi) "
It looks as though the previous reviewer was on the cruise before ours and we whole heartedly agree with everything they have said. Haluk was a fantastic guide. Anyone booking an excursion should book with Celsus Travel they were marvellous.
Alexandra F.
Reviewed October 19, 2014
" Wonderful tour of Ephesus! "
Luckily for us, two passengers on our cruise took on the task of researching tours to Ephesus and chose Celsus Travel, welcoming 11 of us to join the group. Our day could not have been better! The weather was gorgeous, the company congenial, and the experience outstanding. Our driver, Sabri, was excellent, very safe and cautious amid some other rather reckless drivers on the road. Our guide, Haluk, was fabulous. He is passionate about this wondrous place, and it shows. His knowledge is vast, and he really paints the picture of what life was like here. A retired English teacher, he is articulate and comfortable guiding the group, always maintaining his enthusiasm through a long day of speaking while hiking through the site. His energy is boundless, and we couldn't have had a better guide. I am so grateful that I had the opportunity to be a part of this group and highly recommend Haluk and Celsus Travel.
Pattie R.
Reviewed October 10, 2014
" Excellent PMD tour. Best guide ever. "
We were on a cruise that stopped in Kusadasi in May 2014.

Since we already visited Ephesus, we wanted to try something different.

So we booked a tour for "Priene-Miletus-Didyma" directly with Celsus Travel because it had good reviews online.

The tour cost us about 50 Euro / pers and we really really enjoyed it.

We were picked up at the port and driven to the three sites in a Mercedes Minivan that was very clean and comfortable.

The guide we got (Yigit Ergen) was wonderful. He was very knowledgeable and he made every minute very interesting.

Priene has a lot to offer.

Miletus has a great Arena with a lot of history too. And the baths are really well conserved.

Didyma has only the "Temple of Apollo", but this is so huge and this makes a nice place to end the day.

The only downside is the restaurant where we were taken for lunch. It had a great view but there were a lot of cats in the restaurant. That does not sit well with me.

But I would definitely recommend the PMD tour to anyone else if they could have a great guide like we did.

If you never went in that region Ephesus should still be the first choice to visit, but if you already saw it, PMD is a really nice option.
Marco C.
Reviewed June 14, 2014
" Celsus Travel Turkey "
Our holiday in Turkey was saved by booking a tour with Celsus Travel! Booking was made easy and confirmation came only a few hours later. Guide and driver picked us up from our hotel in a luxury van. We got information from the guide (his name yiğit) the entire tour and if we had a question he answered it directly. Definitely worth recommending to other people.
Becky K.
Reviewed June 10, 2014
" Amazing tour!! "
We had an amazing tour of Ephesus and the Terrace Houses with our driver and Ozgur (guide) on May 1st (us and 4 others, so 6 of us). Pickup at the port was prompt, and the ride to Ephesus from Kusadasi was full of learning about Turkey and its people and geography, and the history of the area we were driving through to get there.

The tour once we were there was very comprehensive, with our friendly guide answering questions and helping us understand the history of this amazing place. I learned SO much!!! One of the best tours I've taken!
Shannon W.
Reviewed AMay 21, 2014
" Perfect travel in Turkey "
We were picked up at our hotel in Istanbul for a 6 hour walking tour of the city. We were given plenty of time to explore on our own and join local crowd for an authentic lunch. From our ship we were picked up on time and at the exact spot for a GRAND tour of Ephesus. We visited all the sites but the best part was sharing the culture and the knowledge of our escort. Both escorts had excellent knowledge of the history of their country and their English was outstanding.In Marmaris we had arranged for a Turkish bath not aware that it was not "tourist season" and the better baths were closed. We were dropped off along the bay and were delighted to explore Marmaris on our own. We have recommended this company to friends and all have been impressed. We visited in 2012.
M.P.
Reviewed May 3, 2014
" Great guide great day "
We had a fantastic day visiting the other sites of kusadasi Prieme Miletus and didyma .our guide and driver were excellent and would highly reccomended them for any Turkish adventure.
Selina J.
Reviewed April 28, 2014
" Excellent Tour "
We were met right by the pier and provided a private tour of Ephesus. The car was clean and well maintained and the guide was excellent. He knew his history and would spend as little time, or as much time, giving you explanatory material as you wanted. The Terrace Houses were probably the highlight of the trip. Following the tour we were asked if we wanted to see a place where carpets were made and we agreed. That was fascinating, everything from spinning silk, to hand dying the material, to weaving. The carpets were gorgeous and the manufacturing process very interesting. Obviously they'd like for you to buy one but there was no real pressure to do so. Ephesus is probably the highlight of any port stop in Kusadasi and I'd highly recommend a private tour over a group tour. You can proceed at your own pace and not get bogged down in a tour where, sometimes you might not be able to hear the guide. The site is quite open so bring water, sunblock, and a hat. That's another advantage of a private tour, you can take a short break in the shade and not be subject to standing in the sun listening to other folks questions that you might have no interest in.
Steve R.
Reviewed March 12, 2014
" Great trip to Ephesus "
We wanted to do an excursion out to Ephesus for the whole family, 8 in total, during our cruise stop in Izmir. Celsus provided great service, picking us up at the dock on time, and our tour guide was knowledgable and friendly. All in all, a very reliable service and great value for money.
Gulash G.
Reviewed February 19, 2014
" Good service "
Celsus travel gave a five stars enjoyment for the tour, and I will recommend their trip to my friends, strongly recommended.
D.G.
Reviewed February 10, 2014
" Great trip in the area "
I brought 3 friends with me and we all enjoyed it much. Visited Temple of Artemis, Ephesus Ancient City and House of Virgin Mary in couple of hours which was adequate amount of time for us. Our guide and other personnel was very friendly and courteous. I would definitely recommend this trip and tour company to a friend.
U.C.
Reviewed February 4, 2014