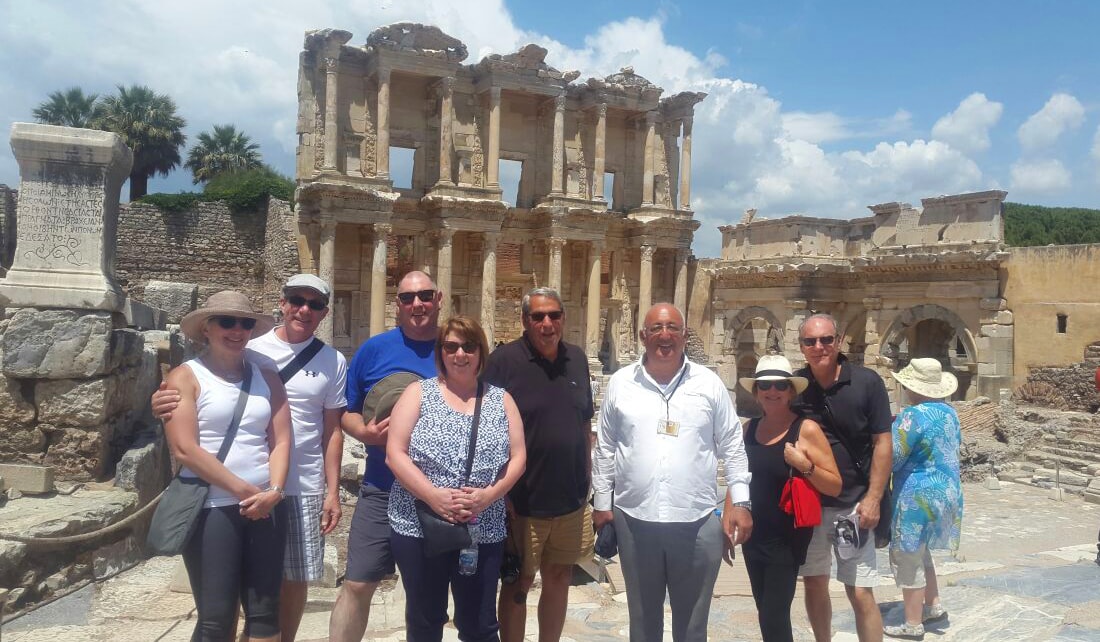 What others say ?
---
" Urlaub "
Es War ein sehr schöner Urlaub. Möchte mich bei Celsus travel Team bedanke. Die Tage flossen dahin. Hoffe das ich alle bald wiedersehen werde.
Tozoglu A.
Reviewed December 6, 2013
" Amazed "
I was totally amazed with this excursion. All those guys were friendly and helpful with the true knowledge of their job. hope to repeat that some other time.
Doksian O.
Reviewed December 3, 2013
" Ephesus Tour "
Booked with Celsus Travel in Kusadasi Turkey instead of doing the cruise ship tour in October this year and it was awesome and worth every cent..The tour guide Yigit was wonderful to us so knowledgeable about anything we asked and showed us some amazing sites..They picked us up at the boat we rode in a Mercedes with a driver and a guide and took us to places we never imagined..He took us to we missed the crowds and all tickets for the places we went were included...Great experience safe and would recommend to anyone...
Olsen E.
Reviewed November 2, 2013
" Ephesus "
It was an amazing trip to Ephesus, the people from Celsus Travel were all very kind and they organized a wonderful trip, so glad I went there!!! mind blowing, especially to see the architectur of old times! Thank you a lot, hope to see you all soon!!!
Bade K.
Reviewed October 22, 2013
" Excellent circuit ! "
Nous sommes arrivés à Kusadasi pour un circuit à la carte car il y avait certain sites archéologique que je voulais voir et d'autre non. C'est pour cela que suite à une recommandation d'amis j'ai contacté Celsus Travel pour demander si il pouvais nous organiser le circuit que j'avais déjà en tête. La réponse positive n'a pas tardé... Tout a été organisé le jour même. Ils m'ont recommandé les hôtels les plus appropriés et je ne regrette pas de leur avoir laissé libre arbitre à ce sujet. Ils étaient confortables et propres. Mon circuit s'est déroulé sur neuf jours. Ephèse, La maison de la vierge Marie, Priène, Millet, Halikarnasse, Aphrodisias, Pamukkale et Istanbul. Notre guide Yigit est un passionné de son pays et nous à fait découvrir la Turquie sous ses multiples facettes. Quel culture ! Notre chauffeur, dont je ne me souvient plus le nom désolé, était très prudent sur la route et très professionnel. Nous avons passé d'excellente vacances et des moments inoubliables avec Celsus Travel. on aurai voulus faire d'avantage de choses mais malheureusement on n'avait pas le temps pour tous. 9 jours c'est court, trop court.

Une chose est sur, c'est que je reviendrais et que je choisirai encore la même agence, que je recommande à tous. Merci messieurs !
Jean-Luc D.
Reviewed October 9, 2013
" Wow! Ephesus and the House of the Virgin Mary "
We made arrangements for Murat with Celsus Travel (English Speaking) to take us to the House of the Virgin Mary and then to Ephesus after picking us up at the Port of Izmir. We recently participated in a 12 day cruise around the Mediterranean. Murat and the tour far exceeded our expectations. Murat's historical knowledge is amazing and my three kids are still talking about what they learned and saw. Murat set the bar for the remainder of our trip and throughout our holiday. No other tour guides we encounter throughout Italy, Croatia and Greece came close to being as knowledgeable and friendly as Murat. We paid in US dollars and traveled with a total of 5 family members. Vehicle was very clean and air conditioned. It was 35 degrees Celsius or 98 F. The cost of our arrangement included all fees to the various venues. Highly recommend and encourage you to ask for Murat by name as your personal tour guide.
Stacey C.
Reviewed August 22, 2013
" Provided a perfect day for us in Izmir "
I have dreamed of going to Izmir since I was a small boy; it was the birthplace of my special maternal grandfather. Courtesy of Celsus Travel, and our marvelous guide Mehmet Cibikci, my dream came true today. Mehmet and driver picked us up in Kusadasi exactly on time this morning in a late model car with AC. We had pre-arranged the sections of Izmir we wanted to see, and we drove there directly. Mehmet provided orientation the whole way, honestly answering all of our many questions. He easily allowed us to set the pace all day - more time for pictures, shopping, drinking Turkish coffee, people watching, always providing perspective on what we were seeing. Mehmet speaks fluent English, and provided expert interpreting for us when needed for signs or with Turkish people. He was impressively knowledgable. Thanks to Mehmet and Celsus I will never forget my special day in Izmir.
Jermil A.
Reviewed August 4, 2013
" Great trip to Ephesus "
We had a wonderful trip to Ephesus - a private tour for my son, husband and me - - they were very friendly, knowledgable, and fun. Everything went smoothly - would highly recommend!
M.G.
Reviewed July 14, 2013
" Seven Churches of Revelation Tour "
Our tour was very well organized and proceeded exactly as described. Our van was extremely comfortable and the driver very courteous. Our guide Sadat was very knowledgable regarding the history of the Seven Churches sites and went out of his way to satisfy our needs and requests.When we asked to defer stops at a rug store and onyx factory he quickly respected our preferences. Sadat picked out some great lunch restaurants and break stops for us along the way. Our hotels for the 2 nights of the tour were4 star as billed and very plesant and comfortable.We recommend without hesitation this tour with this agency - it was top notch in every respect.
Larry A.
Reviewed June 3, 2013
" Appreciated "
My husband and i were curious about Turkey and its history for years. We decided to do a Turkey Tour. We find out Celsus Travel in Tripadvisor which is high ranked and recommended. As soon as I have send an email for a quotation of a chosen Turkey Tour, Burak has answered with a fully detailed tour quotation which i was surprised about the fast response. We did a incredible tour for 11 days in Turkey with our private guide Yidgit and Kaya (Our driver) which was started in İstanbul. Turkey is more than I expected with it historical sites , history , hospitality, handicrafts and Turkish Cuisine (Delicious). We traveled 11 days but I believe its not enough to see the whole country so we booked our second tour with the same guys at the end of our first tour in İstanbul. Thank you Burak and Thank you Celsus Travel Team.
Hillary W.
Reviewed February 18, 2013
" Awesome, awesome, awesome... "
We booked a tour for our 9 adult's party with Celsus Travel Team via their website and Barak has respond very quickly (Lightning).Our ship has arrived at 07:10 a.m to Kusadisi Port and when we cameout at 07:37 a.m our guide (Yigit) was already there for us. He did a wonderful tour site to site and explained stone to stone which a perfect, detailed, historical tour.

Organization was really great which was planned last minute by our guide at the site , we start the tour, our first stop was House of Virgin Mary and when we arrived to Ephesus the crowed has gone. We were very suspicious to book a private tour but with a little research the people had very bad experiences with a large group tour which they describe a rush tour.I will definitely recommend Celsus Team.
Jeffrey S.
Reviewed February 16, 2013
" Awesome Experience for the Second Time "
This is the second Ephesus tour we took with Celsus Travel. Both times we formed a group of ten adults travelling on the same ship. The first one three years ago and the second one last week (October 2012). Both were wonderful experiences. In 2009 Sinem was our Guide and in 2012 Haluk guided us through the ancient ruins. Two of our group developed some walking issues and Haluk took great care to make sure that everyone had the same wonderful experience. When those more able did the Terrace Houses, he found a shady cool spot for them to wait for us. Haluk gave us a wonderful education on the history of each site we visited and we seem to be ahead of all the larger bus groups at every stop. In fact we were the very first van to visit the House of the Virgin Mary that morning. What an amazing experience that was to be able to take our time there in complete silence. I would not hesitate to recommend this company to anyone seeking information. From the moment Burak met us off the ship until Haluk had us back at port, it all went smoothly. It was because we enjoyed our first excursion with them that I rebooked again and would not hesitate to repeat should we find ourselves back in Turkey sometime in the future.
CAria-Anne L.
Reviewed October 8, 2012
" Accommodating and Flexible - Great Tour "
Pre-tour on-line arrangments with Burak (5 hr. custom tour) went well but I had to remind him that we were not interested in a rug/carpet demo or sales pitch on our tour. Burak was great at replying to email questions and details. Our guide, Ozcar, was awaiting our ship's arrival in Kusadasi and off we went to Ephesus before the big crowds and the high sun. Ozcar is informative, personable and eager to please. He accompanied us through Ephesus and often asked if the tour pace and information was satisfactory for our family (2 children). We enjoyed Ozcar's guidance in some local shopping at tour's end - we never felt rushed. Thank you Ozcar.
Frederick G.
Reviewed August 24, 2012
" Fabulous "
Great Tour, Great Guide, Don't miss it! Everything about the tour was absolutely perfect and incredible!
Thomas M.
Reviewed August 17, 2012
" Excellent "
We were a group of 11, traveling from Cape Town, South Africa. We received great service from Celsus Travel from the beginning. Mr Burak was great and provided us a great private service for our complicated itinerary. Airport transfer from Izmir, Full Ephesus and Pamukkale tour was great. The van was large and comfortable. Our guide was knowledgable, very polite and accommodating, as was the driver. Highlight of the trip was 4 days Blue Tour from Fethiye to Kas. We ended up getting the Gulet for our own and had an amazing time on the boat. I can highly recommend Celsus Travel anybody travelling around Kusadasi.
Jennifer D.
Reviewed August 1, 2012