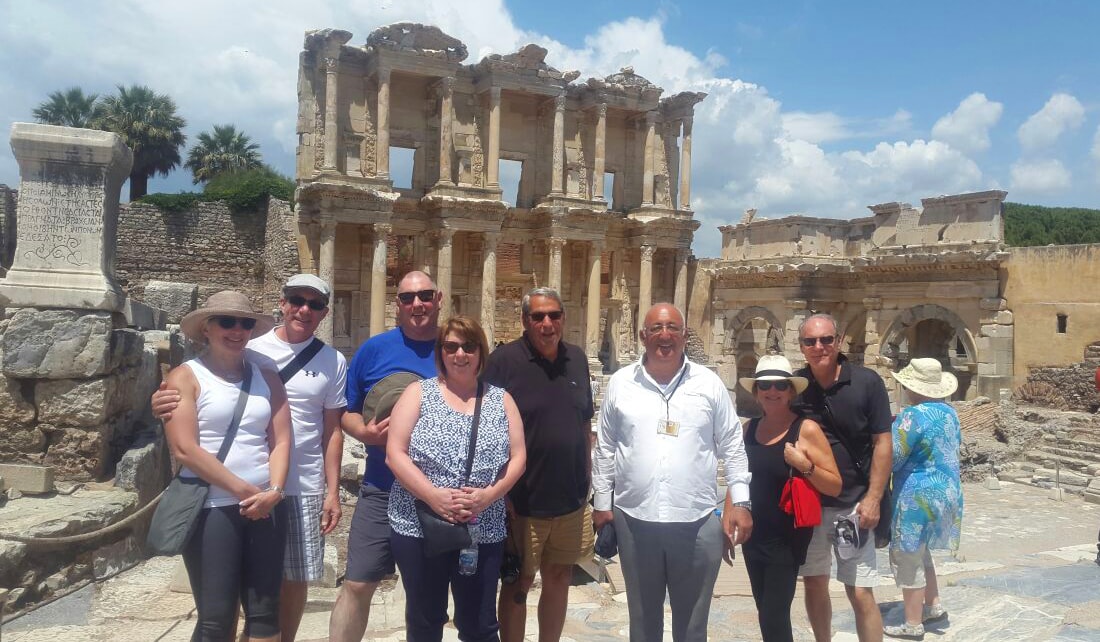 What others say ?
---
" My favorite day "
Just returned from 10 night Med cruise. I want to tell you about my favorite day, spent in Kusadasi (Ephesus) Turkey. After researching on the web and TripAdvisor, we chose to book a private tour while in Turkey. I chose Celsus Travel based on reviews, itineraries and cost. All my correspondence with this company was thru email. A friendly, knowledgeable, professional woman , Didem Senturk was my contact. She responded to all my questions quickly and with assurance as it is intimidating doing business across the world via email. She is very good at her job and I thank her for the awesome guide she provided us. Haluk Caliskan was waiting for us in port as we walked off the ship. He is very friendly, happy, articulate, knowledgeable and easy to be around...like a friend would be explaining the sights. The van was comfortable, clean and with good air conditioning. We chose a tour day consisting of Ancient Ephesus and then a visit to the mountain village of Sirince. Haluk knows Ephesus and his explainations weren't just textbook memorizations. He kept us interested and involved. When he found out my daughter is starting college as an engineering major , he extended our tour to include a detailed look at the sewer and water system these ancient people had developed. Really fascinating. He also knew how to work us thru the crowds , always keeping us ahead of the bus tours. He pointed out interesting sights during our drive. I especially loved the field of artichokes! Sirince was lovely, away from the the tourist throngs, high on a hilltop. Haluk gave us time to explore on our own as well as guiding us thru the streets, snagging sour plums and other delicious treats from vendors for us to sample. We tried some of the local wines, served up by a very nice young man whom our 18 year olds found quite charming! He lead us to a nice open air restaurant for lunch, I think it was called Can. He pointed out the ovens where the fresh bread is baked, two different kinds, then ordered a selection of foods for us... all delicious as we relaxed and ate amongst the beautiful hill top scenery! Next, we stopped at a Turkish carpet trade post school and saw demonstrations of carpet weaving, including the spinning of the silk from the cocoons, were treated to a cup of Turkish tea, and were shown MANY examples of beautiful carpets. This is an informative, cultural stop and I did not feel pressure to purchase. Tip: if you think you might want to buy a carpet, start budgeting for it months before you leave for your trip. They do ship for free anywhere in the world! Our last stop was thru city center in Kusadasi, a very clean, organized area, and finally a hilltop perch overlooking the water, where we settled the the bill for a wonderful day spent! The cost for this day was $74 per person, lunch was extra, around 12euros for the 4 of us, including a beer! Private tour is the way to go for your most enjoyable cruise port day and I Highly recommend Celsus Travel. Thanks so much, Haluk!
Annie A.
Reviewed June 12, 2011
" Ephesus and surrounding area with Celsus Tours exceeded our expectation "
We have cruised several times usually using the cruise line's excursion packages. This Mediterranean Cruise we chose to add private excursions, as well. Through thorough use of tripadvisor, I chose Celsus Travel for our private Ephesus experience (Terrace Houses - must see!!, St. Mary's, St. Johns - which has views of Mosque and Temple of Artemas). Oz was our tour guide, he had excellent English and held history/archeology B.S. He and the driver managed to keep us ahead of the throng (thousands!) of people. He also pleasantly acquiesed to our wish of not seeing the rug factory. (Although, I did hear people on the ship say they enjoyed the experience in spite of the high pressure sales pitch.) The cost of the Celsus tour was equal to the cruise ship cattle car tour. We enjoyed a 6 passenger van and personal attention. I will only take private tours from now on (if cost comparable). I HIGHLY recommend Celsus. I was very impressed with their quick and thorough email communications, which is how we made our bookings, 6 months prior to the cruise.
Bailey B.
Reviewed June 4, 2011
" Would totally recommend! "
I booked a day tour with Celsus Travel for our cruise stop in Kusadasi. We found the company to be professional and very responsive. All questions prior to the tour were answered quickly. Our guide, Yesim, was waiting for us when we got off the ship and was very informative about the history and culture of Turkey. The van was extremely comfortable (we had 4 adults, 3 of whom are very tall.) Our tour included the ancient city of Ephesus and the House of Mary and exceeded our expectations. Our tour was approx. 6 hours long and costs half of that of the cruise ship shore excursion plus it was only the four of us. The only thing you should be warned of is that you will be brought to a Turkish rug making business which is interesting at first and then feels a little like being at a car sales lot. That said, you are not required to purchase anything AND even the cruise ship tours made this "unadvertised" stop. I would definitely use this company again and would highly recommend Yesim!
Sam O.
Reviewed May 30, 2011
" Ephesus with Celsus was amazing! "
I was chosen to be the person in our group of 10 to choose our shore excursions in each of our ports for our recent cruise. From our first communication, I knew that Celsus Travel was the right choice. When we disembarked, Haluk Caliskan was waiting right where he said would be. His van was comfortable and clean. He was informative, entertaining, efficient and flexible. All of us agreed that I had made the right decision. We would certainly tour with him again when we return to this part of the world.
Denise T.
Reviewed May 30, 2011
" Fabulous day tour with Ozgur of Celsus Travel "
We booked our own itinerary for a day trip of Ephesus, the Terrace Houses and the mountain village of Sirince. Ozgur was a fabulous tour guide with amazing knowledge and had a great sense of humor too. There were 6 of us and the van looked new and was spacious and clean..The price was an incredible $60 pp for over 7 hours non stop. Highly recommend Celsus and Ozgur. They get back to you quickly and are terrific. Also advise you not to miss Terrace Houses, which were the residences of the elite and have only been open to the public a year.
Jose M.
Reviewed May 27, 2011
" Celsus Travel tour guides "
Just returned from a Mediterranean cruise with stops in Istanbul and Ephesus. At both ports we (4 couples) hired a licensed tour guide through Celsus Travel, www.celsustravel.com. We were provided a modern, clean mini-van that had seating for 12; an excellent driver and a terrific English-speaking guide, Mr. Kivac Koray. He was very knowledgeable, flexible with our tour itinerary and very personable. We all agreed that we received an excellent tour and would highly recommend Celsus Travel. We also used them for our Ephesus tour with the same satisfaction. The cost of our full-day tour was $70.00 per person (for 8 people). The larger the party, the less per person.
Dave F.
Reviewed May 18, 2011
" Great experience, personal attention! "
I highly recommend Celsus for a private tour in Kusadasi. Our friendly English-speaking guide Ali was eager to please and very knowledgeable; he and our driver made sure that we were able to see all of the sites that we wanted to see – Virgin Mary's house, Ephesus, St. John's Basilica, Temple of Artemis and Isabey Mosque, as well as a delicious kebab lunch in a private garden setting and plenty of time left for shopping. They were well aware of the bus tours' routes and were able to avoid the large crowds at all but Ephesus, which is a large place to visit and we had no trouble with crowds there, either, though there were a lot of people. Having now experienced both the large-group bus tours arranged by our cruise ship and the private guide experience, I highly recommend the licensed private guides, who are very professional and provide a much more comfortable, personal and flexible experience with one-on-one interaction and information at the same or less price than the larger bus tours. Celsus was a perfect choice for us! I wish we had booked them instead of the bus tour for our time in Instanbul, we wasted so much time on that huge bus lumbering around in the tiny streets; I am sure the Celsus private car would have been much more efficient and personal, and probably less expensive, too!
Sally S.
Reviewed May 15, 2011
" 2-Day Tour with Yigit and Ferit "
We booked a two-day tour with Celsus Travel in late February, 2011. Yigit was our tour guide and Ferit was our driver. We had a great time with both. Celsus was great to work with in that we told them what we wanted to see and they crafted a tour to fit our needs. We were a group of four adults and were met at the airport in Izmir by Yigit and Ferit and were driven to Ephesus for a full day tour of Ephesus, the Virgin Mary House, and the ruins of St. John's Basilica before they took us to our B&B in Sirince. The second day, they met us at our B&B and took us to see Nysa, Aphrodisias, and Hierapolis and Pamukkale in one, long 13-hour tour. On our third day in the area, Ferit picked us up at our B&B to return us to the airport in Izmir. Great outfit to tour with and if you can get Yigit and Ferit to show you around, you'll have a great time.
Jim W.
Reviewed March 2, 2011
" Wonderful tour experience "
We had a tour of Ephesus with Celsus travel and couldn't of been happier with our choice. Great tour company and we highly recommend them.
Lynette C.
Reviewed December 28, 2010
" Celsus Travel is the Way to go in Ephesus "
Our party of 4 engaged the services of Celsus Travel while our cruise ship was docked in the port of Kusadasi. Before leaving home we had booked them through the internet. We were promptly met by our guide and driver. Murat, our guide, couldn't have done better. After getting an overview of what we hoped to see and accomplish in a day, Murat quickly planned and told the driver where to start. The limo was quite comfortable and he was able to sit close to us and talk. He made asking questions easy. I not only recommend him, I would use their services again.
Lena R.
Reviewed November 16, 2010
" Izmir and Ephesus "
We recently arrived aboard the Norwegian Gem and had booked a private tour through Celsus Travel. This company was able to accomodate our specific itinerary and provided a modern roomy vehicle with an english speaking guide as well as a driver. The cost for this private tour was significantly below that of the ship. We highly recommend Celsus, their service and staff exceeded our expectations.
Melissa G.
October 26, 2010
" The only way to go!!! "
We were on a cruise ship and instead of doing the excursion- booked with Celsus Travel for a private tour of ephesus ad the terrrace houses.. it was the only way to go! So smooth and for sure we had the most educated and informative tour guide. Her name was Filiz Gokitas and she gave us the experience of a life time! The tour of the terrace houses is a must and you are unable to do it with a big group. To see how the wealthy lived was amazing. Would highly recommend this tour company and it actually cost the same (+3 dollars) as the big bus tour would have.
Laura N.
Reviewed October 12, 2010
" Ephesus in Turkey- Everything was terrific "
Took a recent Princess Cruise with stop in Kusadasi, Turkey. Based on all we read, the thing to see was ruins of Ephesus plus several other sites. Based on recommendationis of Trip Advisor, chose Celsus Travel (info@celsustravel.com.tr.) Negotiated via email back and forth for a few days but settled on a visit to Ephesus, We booked Ephesus Ancient City, Terrace Houses ( amust see) House of Virgin Mary, Temple of Artemis (not much to see), Basilical of St. John, Sirince and trip to a oriental rug school/sales room.. Total price was $90 per person for the four of us with guarented English speaking tour guide, AC car, and a stop for lunch. All I can say is WOW/ Haluk, our guide, was mature, knowledgeable and very personable. He was assisted by a driver so he could focus on our needs.The day was about as perfect as one could ask for. His explanations were full of history. I noted lots of younger guides and from what i could overhear, just not as knowledgeable or fluent. He took us to really nice local restaruant in Sirince which is really worth the visit- local foods we would not have picked, ending with two peaches cut off th tree on the patio, with wine. We treated Haluk and Driver (and Haluk's son) for only about $10 a person. Rug place was exactly as we were told, great and personable salemanship but no real pressure to buy, several cups of tea and a very pleasant atmosphere. We did buy a rug and think we got a price- do negotiate. Note the $90 per person for four was less than what we would have paid for a Princess organized trip that might have included about 15 people. Celsus is the way to go.
Frank and Jane
Reviewed September 13, 2010
" Celsus Travel – great travel experience at the Aegean "
My husband and I found Celsus Travel through TripAdvisor's forums and booked a 5 day/4 night private tour with them last month and we had an amazing trip.

To start, they were very professional and efficient throughout the planning phase and communicated promptly through emails. They were even helpful when we requested for assistance outside the scope of our trip with them. They answered all our questions and adjusted everything to fit our schedule and preferences, booking hotels and arranging sight-seeing according to our requests.

During our trip, they picked us up at the bus station and we were driven in a private car throughout the whole trip. We visited sites at Ephesus, Selcuk, Seringe, Priene, Miletus, Apollo Temple at Didyma, and took a day cruise to the surrounding beaches. Our 2 tour guides (Yesim at Ephesus, and Yigit for all the other sites) were both knowledgeable and professional, and spoke fluent English. We were given historical background of all the sites as well as details regarding their restorations. Yigit even explained the meaning of ancient graffiti carved at some of the sites.

They were extremely accommodating and flexible with our requests, taking us to the best seafood restaurant in Kusadasi and shopping for local music CDs. When we decided to change one of our day-plan entirely at the last minute, they promptly made suggestions and arrangements without any extra charge to us.

We plan to travel with them again when we go back to see the other parts of Turkey, and would highly recommend them to anyone as well.
Susan W.
Reviewed July 15, 2010
" Professional, engaging tour guide. Great experience. "
We booked a tour of Ephesus with Yigit. He met us at the cruise port of Izmir, as planned. We drove to Ephesus and toured the ruins. He was prompt, considerate, knowledgeable and kind. He engaged the adults and the children. His English is perfect. Ephesus was one of the highlights of our trip because of his tour. No complaints, except that the tour company forgot to include a baby seat in the van, which we had requested in advance. I'm sure that a reminder close to the tour would have cured this. Yigit was a great guide.
Brian J.
Reviewed July 12, 2010
" Awesome Private Tour from the port of Izmir, Turkey "
In researching private tours from the port of Izmir, Turkey, I came across the highly recommended Celsus Travel. www.celsustravel.com.tr There were several tours from which to choose. My friends and I chose "Ephesus Ancient City, Sirince Village" for $42 per person for our group of 13. Our tour guide Assey(?) and driver were waiting for us when we docked. We had met two ladies on board who asked to join us. When we sprung this request for two additional passengers at our meeting point he graciously included them in our tour. We enjoyed a nice drive through the countryside along the Agean shore to Ephesus arriving ahead of the big tour buses. He gave us a wonderful tour explaining as we walked down the great marble way what each ruin had been in detail with plenty of time to take pictures. He took our group picture in front of the Celsus Library then left us plenty of time to shop at the market just outside the gate. We then moved on to Sirince Village where we had a great lunch with plenty of delicious wine and food in a nice open air restaurant. Sirince is a lovely hillside village with many traditional shops where you can enjoy bargaining without pushy shopkeepers. Several of the girls bought locally crafted jewelry and olive oil soaps. There were also wine and olive oil shops offering tastings and reasonable prices. This village was not crowded with the usual number of buses, only two others arrived about the time we were leaving. We hated to leave this wonderful town but he kept us on schedule arriving back at our ship with plenty of time to spare.
Tommy P.
Reviewed March 28, 2010